Description
The Upper Hot Springs in Banff offers a tranquil and therapeutic experience with its natural mineral-rich waters and picturesque mountain vistas. It provides a serene environment for relaxation and rejuvenation, akin to a spa-like setting.
Nearby, the Sulfur Mountain goldola is a remarkable cable car ride that ascends Sulphur Mountain, offering breathtaking panoramic views of the surrounding landscape. It's a fantastic way to appreciate the grandeur of the Rockies and immerse yourself in the beauty of nature. While the gondola saves you the effort of hiking to the top of the mountain, if you want the workout you can hike to the top.
In close proximity to these attractions, you'll find picnic tables, which provide ideal locations for picnics amidst Banff's scenic splendor. These spots offer opportunities for leisurely enjoyment, where you can savor delicious food and immerse yourself in the tranquility of the outdoors.
Visiting the Upper Hot Springs, taking a Gondola ride, and enjoying lunch or dinner at a nearby picnic site present a harmonious blend of relaxation, nature appreciation, and outdoor leisure, making it a highly recommended experience for visitors to Banff.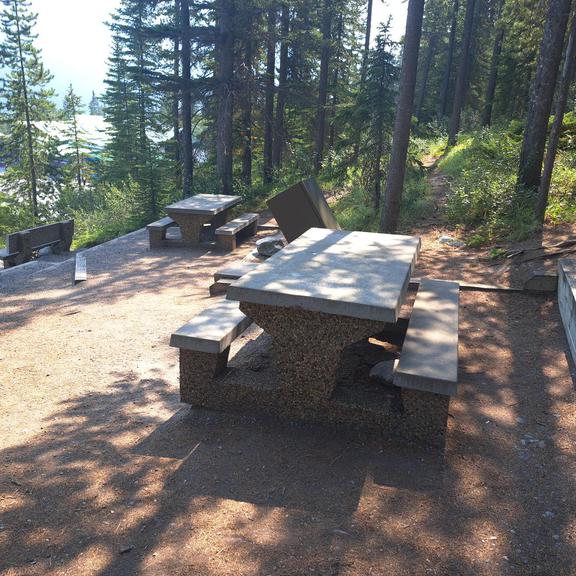 Location and reservations
Status

Open all year

Admission fee

Yes
Reservations

Not available
Access

Drive
Picnic facilities
Picnic table
Bench
Modern (plumbed) washrooms
Concession
Other amenities
Scenic view
Hiking trail
Swimming
Pool
The spartan picnic amenities at the Upper Hot Springs are largely offset by the scenery, location, and hot springs nearby.